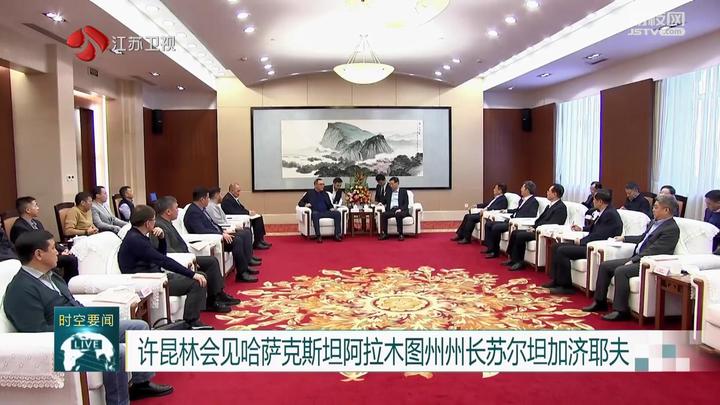 Xu Kunlin, Governor of east China's Jiangsu Province, met with Sultan Gaziev, Governor of Almaty State of Kazakhstan, in Nanjing on Wednesday afternoon.
Xu Kunlin said that meeting with the governor again after two months fully reflects the increasingly close exchanges and friendly relations between the two provinces and states.
This year marks the tenth anniversary of the joint construction of the "Belt and Road" initiative. Kazakhstan and Jiangsu are respectively the very places where the "Belt and Road" initiative was advocated and also the intersection of the "Belt and Road" initiative.
Xu said Almaty is Jiangsu's important partner in Kazakhstan, adding that the Silk Road friendship linked by the "Belt and Road" has endowed the cooperation between the two sides with great potential and broad prospects.
Jiangsu is willing to work hand in hand with Almaty to implement the important consensus reached by the two heads of state, further deepen economic and trade exchanges, strengthen agricultural cooperation, promote cultural exchanges, promote stronger connection and interaction between enterprises in the two regions, achieve mutual benefit and win-win results in various fields, and contribute to creating another "golden thirty years" for the development of China-Kazakhstan relations.
Sultan Gaziev hoped that both sides would jointly promote the construction of the "Belt and Road" to achieve new development with higher qualities and at higher levels, find more opportunities in industrial cultivation, park construction, expand the exchanges in trade, logistics, and other fields, and write a new chapter of win-win cooperation.
Noting that next year is China's Kazakhstan Tourism Year, he looked forward to seeing more tourists from Jiangsu so as to create more opportunities for friendly exchanges between the two peoples.